7 ways to practice tactile stimulation with dementia patients
As care specialists, we understand the need for appropriate and adequate sensory stimulation for Dementia/ Parkinsons disease patients. However, when we meet people of various professional /social/economic backgrounds, I notice a certain apprehension about understanding the relevance of one of the modalities: Tactile Stimulation, which basically involves relating to your sense of touch. Various textures, sizes and shapes like smooth, rough, hard, soft, furry etc. can be used for this activity. The sense of touch also includes the differentiation and recognition of temperature, pain, and body position.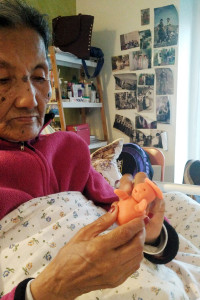 Dementia patients often experience sensory difficulties, the nature of which varies from person to person. These often lead to a decrease in socialization, isolation, anxiety and agitation, low mood, confusion etc. Many of the problem behaviors can be managed by engaging in this form of stimulation.
Benefits:
Enhanced psychological wellbeing: Through a sense of engaging in productive work and socialization
Behavior management: Helps to lower anxiety and calm down agitation
Cognitive Competence: Alertness and concentration
Emotional well-being: Improved self-esteem, positive mood and better self-expression improve quality of life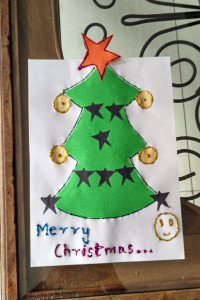 Tactile stimulation can be incorporated into to the lives of our loved ones in the following ways:
1) Using textured object: Sandpaper, thermocol, different types of cloth, grain box etc
2) Hand/finger painting; Crafts involving cutting and pasting
3) Passive stimulation: Like hand/head massage, manicure and pedicure
4) Caressing pet animals like cats, dogs etc
5) Using soap or a sponge, play-dough/clay, soft balls etc
6) Playing simple musical instruments like congo, piano etc
7) Activities like knitting, folding laundry, peeling peas and typing are not only great for motor coordination but also invigorate our touch sensation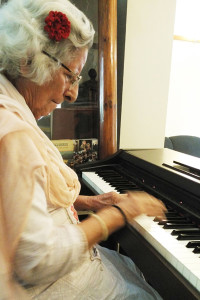 The effectiveness of a positive, comforting touch like a firm handshake, side hugs, pat on the back or even holding hands while walking is well documented. This form of non-verbal communication is often used to assure our loved ones with dementia that they are not alone and we are with them. With one of our clients, it was the only way to break the ice and make them comfortable. While with another lady, engaging in these activities makes her feel comfortable and productive.
The far ranging benefits of tactile stimulation make it all the more important for us to incorporate them in some or other form into the lives of our elderly loved ones.
---
We at Samvedna Senior Care aim to help seniors live happy, active and independent lives, in the comfort of their home and community through interactive caregiving.
Samvedna Senior Care was established in October 2013 with two complementary goals – firstly to provide quality home care services to seniors with limited mobility and social interaction due to various constraints, and secondly to facilitate stimulating community interaction and participation.
Our Dementia Care services are –

At-home services –
Dementia intervention activities by trained Care Specialists (already mentioned above). These services are available in Delhi NCR and Guwahati
More – http://www.samvednacare.com/dementia-care
Please call us for more info – Delhi NCR – 98184 21446, 124 4229659 | Guwahati – 9864015872
Cognitive Wellness Programme, Sector 57  Gurgaon  –
Samvedna's Cognitive Wellness Programme is designed for seniors with mild cognitive impairment, early dementia or Parkinson's, and elderly lacking in enthusiasm and motivation. The aim is to stimulate the mind of the elderly to slow the progression of the disease or impairment. The sessions are 3 days a week, 11AM-1PM.
More – http://samvednacare.com/cognitive-wellness-programme
Dementia Support Group –
Our Dementia Support group in Delhi NCR and Guwahati is a platform for caregivers to share feelings and support each other.
More – http://www.samvednacare.com/dementia-support-group
Please call us for more info – Delhi NCR – 98184 21446, 124 4229659 | Guwahati – 9864015872