Dementia support groups are a great outlet and platform for caregivers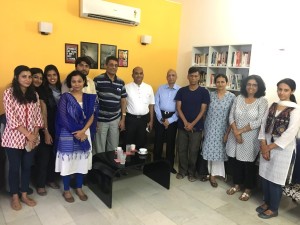 I am working as a Dementia Care Specialist at Samvedna Senior Care. We organize Dementia Support group meetings for caregivers on a monthly basis and invite people from various parts of Delhi-NCR to come discuss, support and share their stories. This meeting is free of charge for dementia care givers.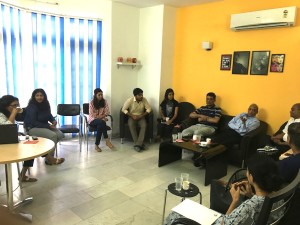 As a part of my work I meet people suffering from different stages of dementia and each one of them have their own peculiar behavior and challenges. No two patients of dementia will have the same issues, hence when I attended the support group meeting I was not surprised to meet primary caregivers with their own list of challenges dealing with their loved ones.
Our meeting this time was focused on dealing with challenging behaviors in dementia. The group of caregivers were a mixed lot – some who were experienced and others whose loved ones had been recently diagnosed.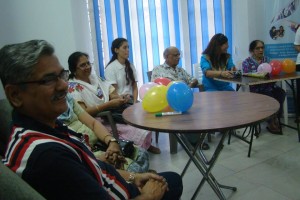 The session started with a discussion on the role of medications in dementia. The opinion was mixed some participants had a positive experience with medication whereas others were not in favor of giving medicines. We agreed that the medicine dosage has to be balanced between letting your loved one become calm versus making them sedated.  It's a tough call and very hard on the care givers to decide what is better for them as well as the patient. We also discussed the importance of proper and timely diagnosis and assessments, as misdiagnosis often leads to wrong treatment resulting in other behavior and psychological issues.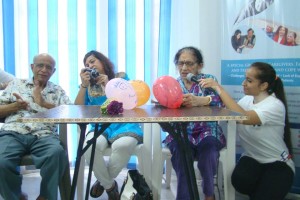 Our Care Specialist then discussed incontinence and how to manage it for patients.  The participants discussed challenges convincing their elderly to get into diapers. They shared with each other tips and techniques to manage incontinence.
Another important topic which was discussed was having a trained personal attendant for their loved ones. One participant shared that his father is 80 years old, and his mother, 75, was helping him with his daily needs. Since his mother herself is a senior citizen so the group suggested to him to keep a full time attendant for his father and give respite to his mother.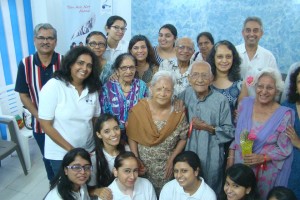 Some common behavioral problems like sun downing, pacing, repetitive behavior, agitation etc. were reported by the participants. Experienced caregivers along with Samvedna Care Specialists shared their experience on managing these issues. The most critical aspect of caring for dementia patient is setting up a routine, activity calendar and communicating by simplifying the task instructions to them.
Some caregivers discussed their experience with pet therapy, music therapy and doll therapy and how it helps them successfully distract their loved ones and helps spend quality time with them.
The support group meeting was insightful and there were so many experiences to learn from for even a professional care giver like me. As one of the caregivers rightly said acceptance of the disease is the first thing to providing care for your loves one!
---
We at Samvedna Senior Care aim to help seniors live happy, active and independent lives, in the comfort of their home and community through interactive caregiving.
Samvedna Senior Care was established in October 2013 with two complementary goals – firstly to provide quality home care services to seniors with limited mobility or dementia and hence social interaction, and secondly to facilitate stimulating community interaction and participation.
Our Dementia Care services are –
At-home services –
Dementia intervention activities by trained Care Specialists (already mentioned above). These services are available in Delhi NCR and Guwahati
More – http://www.samvednacare.com/dementia-care
Please call us for more info – Delhi NCR – 98184 21446, 124 4229659 | Guwahati – 9864015872
Dementia Support Group –
Our Dementia Support group in Delhi NCR and Guwahati is a platform for caregivers to share feelings and support each other.
More – http://www.samvednacare.org/our-work/dementia-care
Please call us for more info – Delhi NCR – 98184 21446, 124 4229659 | Guwahati – 9864015872
Cognitive Wellness Programme, Sector 57  Gurgaon  –
Samvedna's Cognitive Wellness Programme is designed for seniors with mild cognitive impairment, early dementia or Parkinson's, and elderly lacking in enthusiasm and motivation. The aim is to stimulate the mind of the elderly to slow the progression of the disease or impairment. The sessions are 3 days a week, 11AM-1PM.
More – http://www.samvednacare.org/our-work/cognitive-wellness-programme