Our Senior Care Specialist Shezmin shares her experience of working with the elderly.
My experience as a Senior Care Specialist has been full of new experiences and challenges.  Since I come from a Clinical Psychology background, I had multiple options to start my career with, but I chose to work with the elderly. I am close to my grandparents and try to understand them and their needs, which in turn has helped me understand my clients better.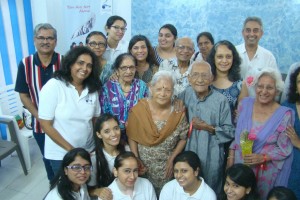 In my interaction with the elderly, I've observed that they are keen and have a lot to share, as their lives have been full of experiences.  They want someone who can listen to them patiently. In today's world all of us are leading busy lives and that leaves us with little quality time for our elderly at home, which somewhere makes them lonely.  Most of them just want a little time from their children and grand children to be happy.
One of the elderly I visit asks me to call her 'Nani', as it makes her feel good.
She always calls me before my visit to confirm if I am coming.